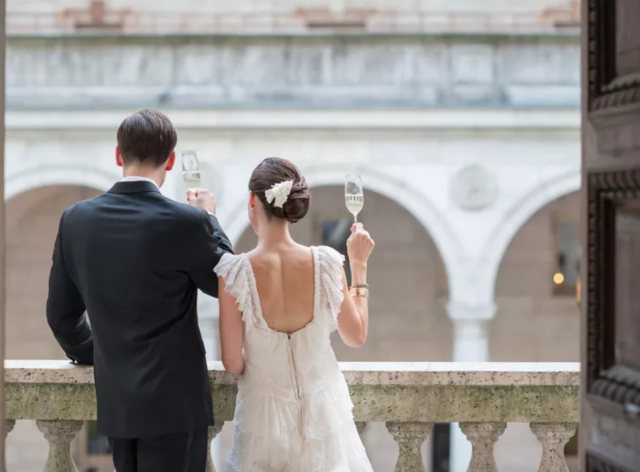 Weddings are becoming more personalized. Couples want their wedding to have a touch of their own tastes and interests portrayed in some way, and guest's enjoy seeing these new ideas brought to life. An element of personalization is when couples choose to do a few "twists in tradition" at their weddings.
So first, what is a traditional wedding? Traditional weddings will vary depending on the religion, background, customs and country of origin of the pair. For example, in a Jewish wedding, one of the traditions in the ceremony is for the bride to walk around the groom seven times, and for Jewish people this represents the seven blessings and seven days of creation. In a traditional Roman Catholic wedding, there will three biblical readings and a full mass performed.
But ceremonies aside, there are multiple religions and cultures that have adopted western traditions with things like the dress attire, timeline of events at the reception, and the best part of any wedding… the dessert. Until about 10 years ago, the only dessert you would find at most weddings would be cake (obviously) and maybe a few fancy petit fours. But now, the options are never ending!
Recently we have seen dessert tables filled with sparkly cake pops, fudge brownies, cookies with the couples pets iced on them, and even candied bacon bars. The latest trend is "waffle cakes," which if you have not seen, here is some eye candy for you: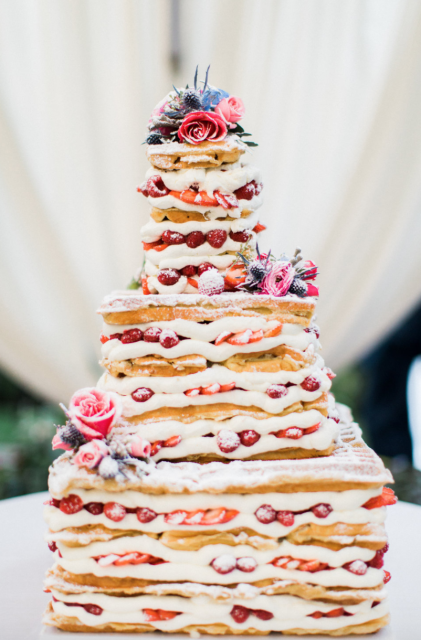 The next twist in tradition has to do with the dress… Wedding dresses no longer are blindingly white! Many brides are choosing to have different colored undertones, such as blush, gold, or even blue. The boldest of the bold will even have patterns or prints on their dresses, not just one solid color: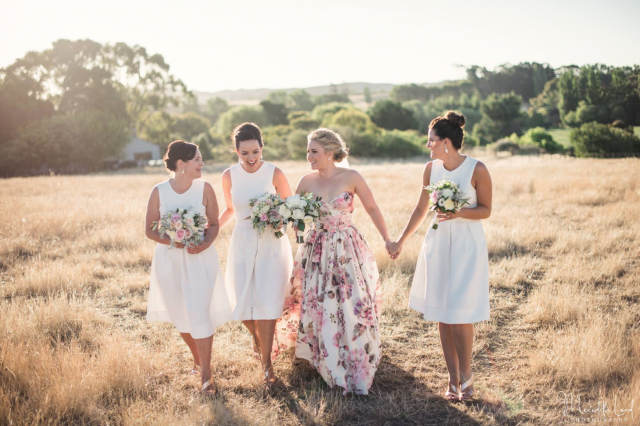 Another welcomed change is instead of having the three toasts from the Father of the Bride, the Best Man, and the Maid of Honor, the bride and groom are choosing to do the toast themselves. They use this moment to thank all of their guests for coming to celebrate the two of them joining together. This is an especially nice gesture when their Best Man is about to faint at the thought of speaking in front of 150 guests. Not everyone enjoys public speaking! (Me, me, me).
The last new "twist on tradition" (and my personal favorite) is MENgagment rings! This is the greatest thing I have heard in 24 years. These rings are for both gay and straight couples. Women usually wear engagement rings and get to show off their bling for a year while men just get to say, "Yep, I'm engaged!"…Shouldn't they have something to show off as well? Take a look: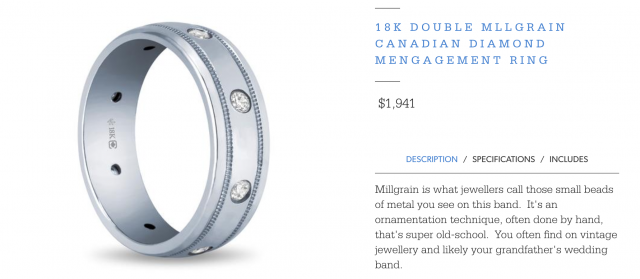 Traditions at weddings can be changed and altered. Which can be a big part of making your wedding YOUR wedding!
~Blog by Bridget