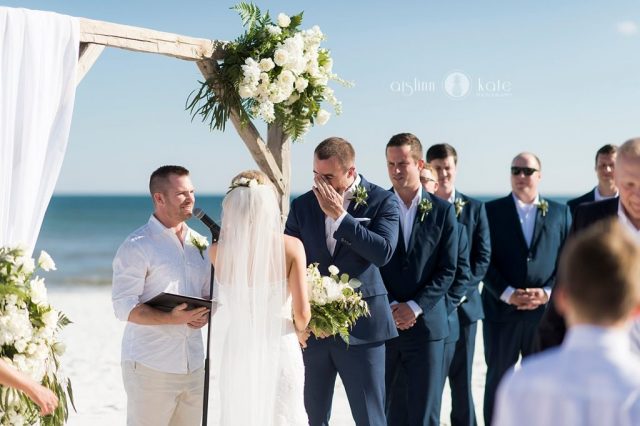 Both natives and visitors alike know Florida for its gorgeous beaches and warm weather. Therefore, when getting married here, many couples opt for the gorgeous back drop of our local white sand beaches and clear blue waters. And while the beach makes for the most amazing of ceremony settings, there are several tips to keep in mind to make for the perfect wedding on the water.
Keep It Casual
While guests don't need to wear shorts and t-shirts to be comfortable, black tie is probably not the way to go for a beach wedding. Keep the season and temperature in mind. While suits are great for an early spring or late fall ocean wedding, summer can be rough on guests in formal wear. Be sure to let guests know that the ceremony will take place on the beach as this can greatly affect attire decisions – especially regarding footwear. No one wants to wear heels on the beach, and a well-prepared guest is a happy guest!
Intimate is Better
Extremely large guest counts tend to work poorly for beach ceremonies. With the wind and water, guests want to be close so that they can hear your "I dos" and feel like they're a part of your special moment. If they're spread in a huge cluster across the sand, you'll have a harder time making everyone feel included.
Remember Your Elderly Guests and Those with Disabilities
Grandparents and guests with disabilities can often have a tough time crossing the beach thanks to all the sand. Plan ahead to make this as easy and comfortable as possible for them. Have an usher or family member pre-designated to help them get to their seats – and do be sure to have a seat reserved for anyone who needs one – even if not providing additional chairs. If guests need additional assistance beyond a helping hand, rental companies in the area are often able to provide beach wheel chairs. By making special accommodations for those guests in need, everyone will feel welcome!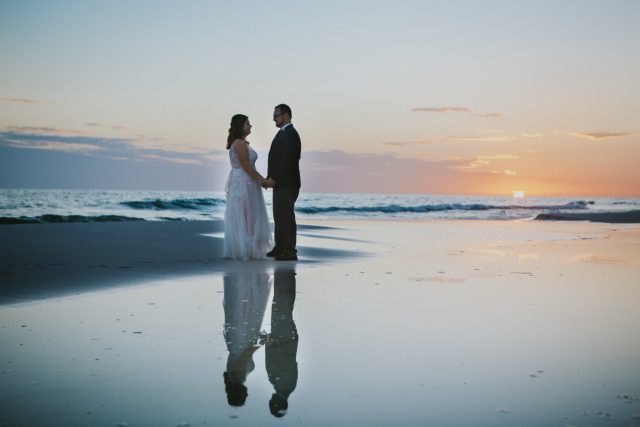 Speak Up!
With crashing waves and beach winds, guests can often have a hard time hearing your vows. Be prepared to speak up or plan ahead. Look into renting a sound system if you know that you or your spouse tend to be soft spoken. Providing a microphone is also helpful for your officiant as they will always appreciate not having to shout their way through your ceremony.
Plan with the Tides in Mind
Be sure to consult an annual tide chart well in advance of scheduling your beach ceremony time. What once looked like a beautiful, wide beach may have become a cramped little strip of sand at high tide. While this is not necessarily a deal breaker for having your ceremony at that particular time, being prepared and having that information ahead of time is always the best policy.
Provide Water and Sunscreen
When exposing guests to sun and heat, be sure to provide them with the necessary tools. Guests from out of town – who aren't used to the Florida heat – may not have planned ahead. By having bottled water and sunscreen available for everyone, you'll always be remembered as an excellent host.
Have a Backup Plan
Weather at the beach changes often. Thunder storms can pop up at a moment's notice. And while this shouldn't scare anyone away from a beach wedding, having a backup plan is crucial. Most beaches in the area don't necessarily allow for a tent on the beach, so a separate weather plan is ideal. Whether under a beach house or at your reception location, having that secondary location will eliminate the stress associated with last minute changes in plans.
__
As with all elements of a wedding, being prepared, thinking through the various implications, and having a plan for your beach ceremony is always the best policy. Happy planning!
~Blog by Macky