The wedding grand exit has become one of the most memorable moments of every couple's wedding – thanks to the gorgeous photos that are often captured. However, venue rules and regulations now often limit a couple's choices when it comes to items for guests to toss. While rice, confetti, and sparklers are some of the most frequently thought of and traditional of choices, insurance regulations and environmental concerns now often prohibit these from being used. If that's the case for your venue, don't worry! There are tons of other fun and inventive items to use to make your grand exit stand out from the rest.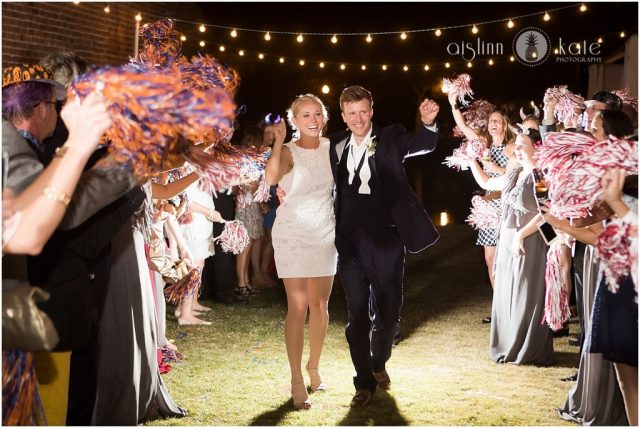 Sports Fans
Are you and your spouse-to-be known for your team pride? If so, incorporate pom-poms with your team's colors, rally towels, or flags for your guests to wave as you make your exit. Support more than one team? Let guests express their loyalty by offering multiple options for them to wave while they cheer you on your way out. 
Music Lovers
Love to make a little noise and want an extra loud send-off? Provide your guests with harmonicas, kazoos, tambourines, maracas, bells, or any other mini-instrument to ensure that you have the most raucous exit ever. Guests of all ages will get a kick out of this fun option; however, check with your venue to make sure that they don't have any noise or time restrictions if choosing this option. 
Environmentally Friendly Options* 
Want your guests to have a physical item to toss as you exit, but don't want it to have a negative effect on the environment? There are lots of eco-friendly options now for guests to toss. Ecofetti has the exact look and feel of regular confetti but disintegrates quickly and easily. Birdseed is also a great option that is very similar in appearance to the traditional option of rice – but obviously much easier to digest for our feathered friends. Small, fresh-cut flowers or even green leaves are another great option. All of these ideas make for a nature-friendly and beautiful exit. 
Sweet Treats*
Sprinkles or other small candies, like Nerds or tiny tarts, are a fun option as guests can decide whether to throw or eat them! However, be sure to pass out extras as you'll lose a lot to those guests with a sweet tooth.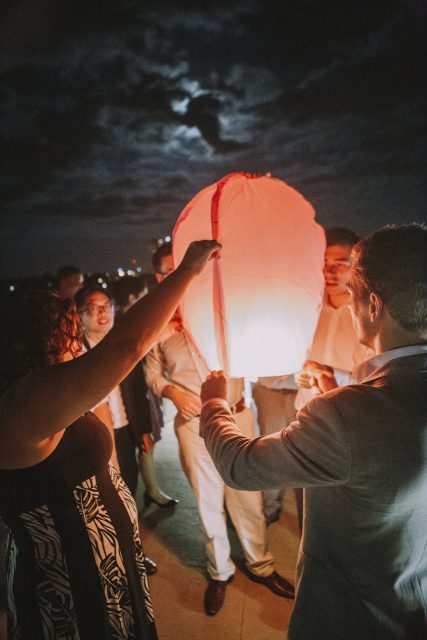 Fire Lovers*
Using a venue that doesn't have restrictions regarding your exit? The commonly used option of sparklers always makes for gorgeous exit photos. Be sure to have a bucket with sand ready to extinguish any sparklers after you're on your way. As an alternative, flying paper lanterns can also be a beautiful option. However, be sure to do your research into these as there are pros and cons as with anything involving fire and wedding guests…
Add a Little Whimsy
Bubbles also make for great photos, are inexpensive to purchase online, and require no venue clean up afterwards. Guests get to feel like kids again while blowing bubbles for you as you exit. However, consider purchasing or renting a cheap bubble machine or two as well. Guests often don't have enough lung power or time to really have the sky swirling with bubbles before you depart through the crowd. If you've seen exit photos with the sky full of bubbles, chances are that they had a bubble machine assisting onsite. 
Party Lovers
Want a bright and colorful exit for you and your new spouse? Pass out glow sticks for guests to wave as you depart for a neon departure! Glow sticks can serve double duty as dancing props if you pass them out during your reception; however, be sure to let guests know to hang on to them until the departure if you'd like them included in photos. 
Budget (& Time) Friendly Options
Want to do a grand exit but forgot to purchase toss items? Or maybe just don't have the budget to add them in addition to everything else? No worries! Guests can still line up in order to clap and cheer for you as you make your departure. Often times this can be a really fun option as guests tend to get inventive themselves – they may make a tunnel with their arms for you to run through, do the wave, or start a spontaneous dance party. They're here for you and will make sure you're having fun from the minute you arrive until the second you leave! 
___
As with any part of your wedding, guests love to see personalized details. So customize the exit to best fit you and your spouse – in whatever form that may take! And don't worry if your options should be limited by your venue: the choices are endless! 
~ Blog by Macky
*With any exit options involving tossed items or fire, be sure to check with your venue before making any purchases or confirming plans. Many venues have additional clean up fees or even prohibitions regarding these options.