In most families these days, pets are no longer relegated to the backyard as secondary citizens. Instead, they have become true family members, and in most cases, feel more like our furry children than like a fun toy or accessory. Because of this shift in mentality, more and more couples are looking for ways to incorporate their pets into their wedding days. While this tends to apply mostly to our canine friends, it's not completely out of the norm nowadays to see a cat, pig, rabbit, horse, or other exotic pet make an appearance – whether in person or photo form. However, there are lots of different ways to make both your pets and guests feel welcome and comfortable on your wedding day.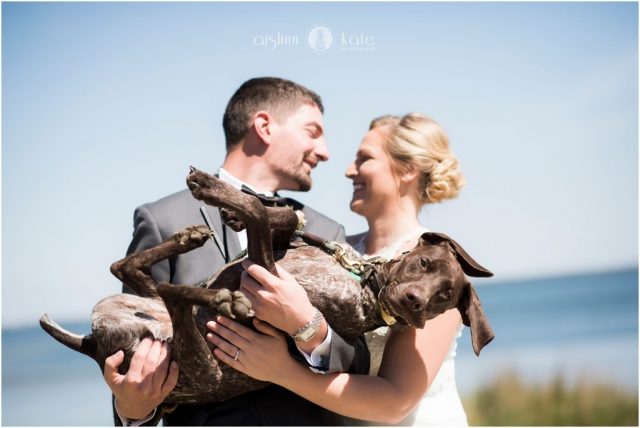 Have a shy pet or one that's not necessarily comfortable with large crowds (this can often apply to rescue pets) or lots of eyes staring? Instead of including your pet in the ceremony itself, consider having them make an appearance in your photos to make sure they aren't put on the spot. Logistically, the photo appearance also tends to be the easiest of the various pet plans as long as your photographer is briefed ahead. Have a designated friend or family member assigned to keeping your animal pal occupied until their time to shine arrives. Afterwards, whether they feel inclined to participate in photos or not, your furry friend can be whisked back to the safety and security of a quiet spot whenever necessary. The photo option also ensures that those guests who may not be comfortable with animals have a great time celebrating as well. Afterwards, you'll have photos to enjoy for many years to come of a great moment in your family's history!
Worried that your pet may not be behaviorally ready to participate in photos while you're dressed in your wedding finest?!? Or maybe you're getting married away from home in a location where your pet may not be able to travel? Instead, opt to incorporate your pet into any number of wedding day accessories. Almost any article of wedding paraphernalia or attire can be customized to feature your fur child these days. From socks and pocket squares to invitations and cake toppers, you can go as crazy cat lady as you'd like. Guests usually love these personal touches, and it'll make you feel as if your pet is present – even if they can't attend physically.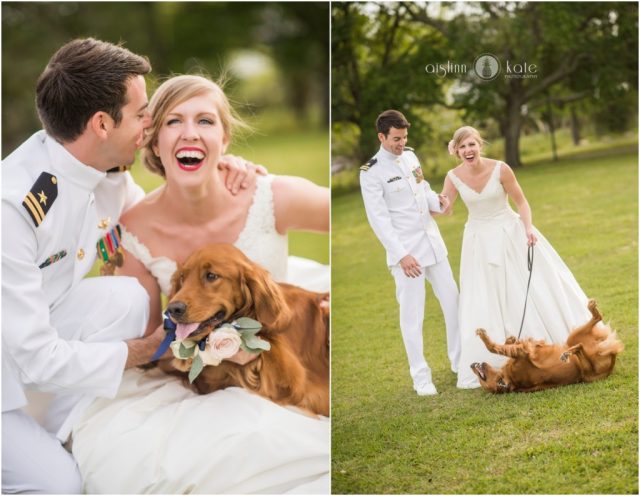 Are you lucky enough to have that perfect pet who minds their manners and gets along well with everyone? (Count us very jealous!) Dogs especially can serve as excellent greeters, ring bearers, or flower girls depending on their level of interest in the ceremony. Keep in mind that you'll need to designate a human wedding party member or animal-loving friend to watch out for your pet. Even the most rule-abiding of pets can wonder off or get distracted. When selecting this guest, be sure it's someone who is up to the task and has a pre-existing relationship with your little buddy. Not every wedding party member will be thrilled when given this special assignment (although it's many pet-lovers dream!). Also, be sure to check in with your venue to make sure that they're pet-friendly. If outdoors, provide water for your pet to keep them happy and healthy. And with all pet-related activities, be flexible and know that they may not always behave exactly as planned. With these suggestions in mind (and a decent walk or potty break for your pet ahead of their trip down the aisle), what could possibly go wrong?!
Want your pet to make an appearance but not necessarily during the ceremony itself? The reception may be the appropriate place to do so. In this case, many of the same tips as the wedding-ceremony-inclusion option will apply. Remember to have a designated petsitter who can make sure your furry pal isn't eating off buffets, running wild, or wandering off. This guest should also have access to a quiet spot where your pet can hide out once it is over the wedding festivities. Again, this designated individual should be alerted well in advance of their duties and should be completely on board. If they need to drive your pet offsite once it's time for its departure, this individual may not be able to drink during the reception. This can be a big favor to ask and a decent heads up is required. Also, be sure to provide water and food for your furry child and confirm that your venue allows pets onsite.
___
Including your pet in some way at your wedding is always a good idea, however, how you choose to do so is a question of utmost importance. Be sure to honestly assess your pet's willingness to participate and the likeliness that said pet will actually enjoy the spotlight – as this role wasn't made for every animal. Whether it's posing for photos, making a non-physical appearance on wedding-related items, or serving as an honored member of the wedding party, be sure to stay flexible and be understanding with your pet. With some preparation, openness, and a sense of humor, a wedding incorporating your furry children will be a day you'll never forget.
~ Blog by Macky