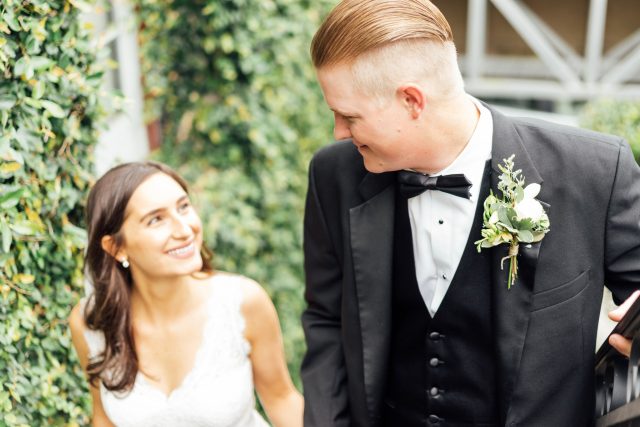 Mariah and Morgan are the kind of couple that you only read about in fairytales – high school sweethearts who have been together for over eight years and without a grey area in between. They chose to exchange their vows at a stunning morning ceremony on April 29th and we were so excited to be able to help with the coordination.
Mariah and Morgan exemplified every quality of the perfect bride and groom…they were excited yet still relaxed, sweet and caring to those closest to them, and above all else absolutely in love with each other. They began the morning with a very romantic first look on the Skopelos courtyard at New World Landing, captured by the talented Jake Freeman. Once pictures were finished, they headed to 5eleven Palafox which would be the venue for both the ceremony and reception.  Jim Green on guitar set the tone of the ceremony in the brick covered courtyard which was filled with mahogany chiavari chairs in front of an elegant birchwood arbor dressed in plump white hydrangeas.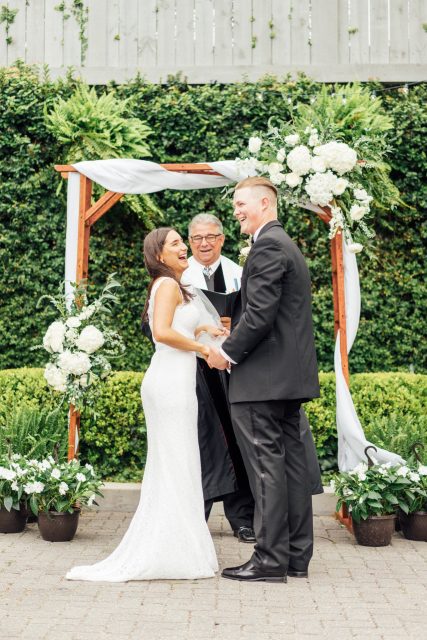 Reverend Riley Richardson pulled hard at our heart strings with his perfectly chosen readings and discussion on love and marriage. And just like that, Mariah and Morgan were joined hand-in-hand as Mr. and Mrs. Morgan Crawford.
The start of the celebration took no time at all as the guests made their way inside to find a mimosa bar and full buffet supplied by Nancy's Catering & Events. The rustic ballroom was fitted with ivory linen by BBJ Linens with the centerpieces and all floral arrangements done by Morgan's mother, Becky. Although our planners are sometimes skeptical of family and friends doing the bulk of any wedding day service, Becky's decor was stunning and could not have complimented the venue any better.
The morning and mid day was beautiful, lighthearted and full of love. We want to thank Mariah and Morgan, as well as their families, for letting us be a part of their special day, and wish them nothing but good luck and happiness in whatever their future may hold.