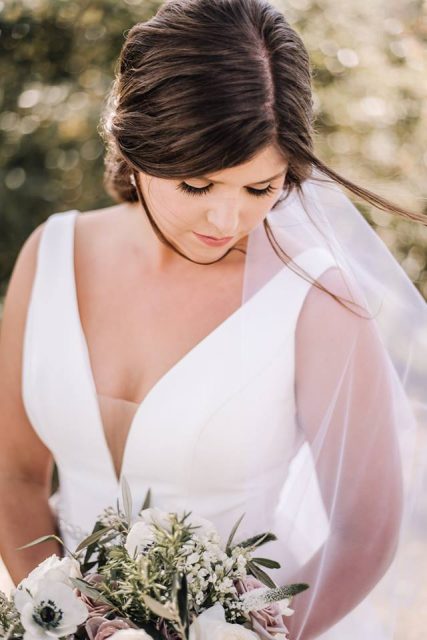 If you've ever tried to picture the perfect weather for a wedding day, then you've been thinking of March 30, 2019. The bride and groom – Madison & Everett – couldn't have chosen a more ideal day for their outdoor wedding if they'd tried. With dreamy views of the water, a team of amazing vendors, and the sweetest families around, this wedding will forever go down as a favorite!
The bride's family's waterfront home on the Pensacola Bay was seemingly built to be the perfect wedding venue. With amazing views all around, huge stately oak trees, and a neighborhood full of family members (who never complained once about noise or traffic!), this home and its natural backdrop were made for jaw-dropping views and photos. Once we added in a clear-top tent and beautiful furniture from Port City Rentals, cafe lighting and white drapery from Powell Entertainment, and gorgeous florals from Celebrations the Florist, this wedding was almost like a Pinterest-ready photo shoot!
To start the day, Madison and her bridesmaids spent the morning getting ready at her uncle's home next door. Jillian Holt was on hand to assist with the bridesmaids' hair as well as Madison's hair and makeup. Mid-morning, Kristen of Kristen Stone Photography arrived to capture the girls in their cute robes – popping champagne, laughing, and relaxing – no nerves in sight! She and second shooter Perla Martinez also shot Everett and his groomsmen who were hanging out across the street – equally relaxed and ready for an amazing day. 
And, the beautiful moments at this wedding started early! Madison shared an especially sweet moment with her father during their first look, and the emotions kept rolling as the bride and groom's gorgeous first look followed. Then it was time to head to the church! 
Five Flags Trolley shuttled the bridal party, as well as all guests, to St. John's Episcopal Church where Reverend Christie Hord officiated a beautiful ceremony. Following a few quick post-ceremony photos, everyone jumped back on the trolley to head back to the house for a lovely cocktail hour. Both dinner and hors d'oeuvres were served by the staff of Nancy's Catering & Events – complete with a Mac & cheese bar specially requested by the groom.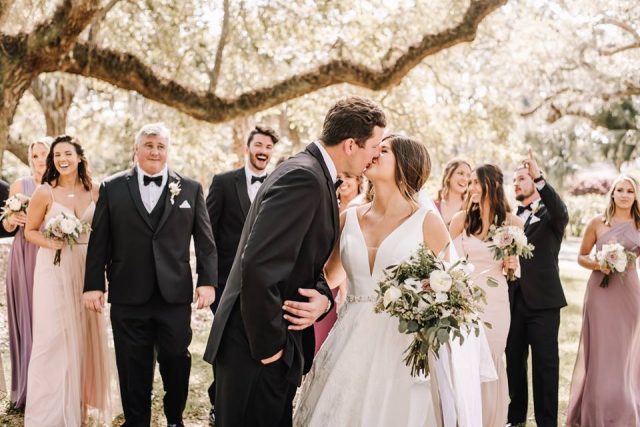 After Madison & Everett cut a gorgeous cake prepared by the wonderful Betty Weber, guests partied the night away under the clear tent surrounded by the beautiful florals from Celebrations. DJ Albert Lao of Powell Entertainment knew just how to read the crowd and had guests dancing all night long. Following a sparkler sendoff, the party had to sadly end. But what a beautiful night it was!
We'd like to especially thank the Vincze family, in addition to Madison & Everett, for allowing us to be a part of such a magical affair. We'll be thinking of this night for years to come! We wish both the Vinczes and Ellises all the best for an undoubtedly happy future ahead. 
And special thanks to Kristen Stone Photography for the beautiful photos!