Leslie and Brett's wedding day on December 29, 2018 was one to remember. Beginning with a beautiful ceremony (complete with sword arch) and ending with a night of nonstop dancing, every moment was detailed and personalized to this special couple.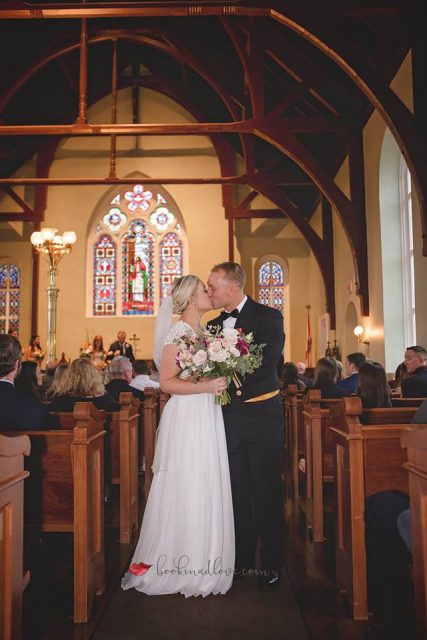 While the forecast called for rain all week, Mother Nature was on our side, resulting in a perfect wedding day. Leslie and her bridesmaids spent the morning getting ready at the Sweet Shop cottage – an ideal location with its bright, airy, and spacious rooms. The wonderful team from Tease styled all the girls' hair while the fantastic ladies from Deshi beautifully applied all makeup. Shortly thereafter, the team from Mad Love Photography, led by Deanie Sexton, arrived to capture every lovely moment. 
Afterwards, Brett and his groomsmen were picked up by the Five Flags Trolley and brought to the Sweet Shop for Brett and Leslie's adorable first look. You could feel the love as the couple was then joined by their wedding party and immediate family for lots of special photos. 
The wedding party then moved, once again via trolley, to Old Christ Church for a special ceremony officiated by family friend Pam Berdit. Thanks to her longtime relationship with Leslie, Ms. Pam made sure that the ceremony was meaningful to this couple. All the gorgeous flowers were provided by Supposey Co. and the music was provided courtesy of Powell Entertainment. After Leslie and Brett were announced for the first time as Mr. & Mrs. Brett Angerer, they departed the church through a special sword arch. 
From there, guests moved to 5Eleven Palafox which was beautifully decorated – thanks again to Supposey Co. Following cocktail hour, the couple made their grand entrance and shared a sweet first dance together. During the reception, guests enjoyed delicious catering and bar services which were provided by the team at Great Southern. And DJ Matt Powell kept the guests dancing all night long – seriously, this group was on the dance floor from the beginning to the very end.  
Brett and Leslie took a quick break from dancing and socializing to cut their beautiful cake – courtesy of Blue Jays Bakery. They then partied the night away until time for their grand exit, which was made through a sparkler send-off, via the adorable Ghia Car from Supposey Co. 
We loved being a part of this couple's special day as they were a joy to work with from start to finish. They chose a team of fantastic vendors and thought through absolutely every detail of the day. We wish all the best to Mr. & Mrs. Angerer and know that they have a lifetime of love and happiness ahead! 
Special thanks to Mad Love Photography for all the photos!