A big question that faces every couple as they begin the wedding planning process is whether or not to include children on the guest list. While it may seem like an easy box to check off of the to-do list, the debate regarding kid-friendly versus adult-only weddings tends to lead to heated discussions. To figure out which option works best for your big day, be sure to consider all the pros and cons of including younger guests.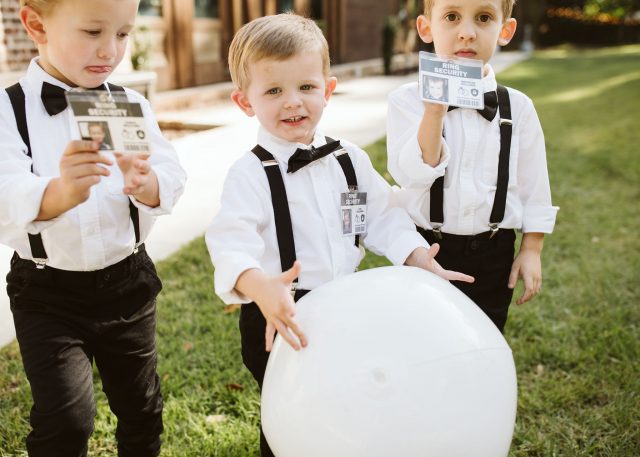 Kid-Friendly Pros
Everyone is welcome! – If you're looking to have as many guests as possible join you for your wedding day, consider including the kiddos. By inviting children along with their parents, you are ensuring that more people will be able to attend. Without the added costs or burden of having to find child-care, more parents of young kids will be able to celebrate with you. Oftentimes – especially for those that need to travel from afar – having the option to bring their children makes the decision to check "yes" on their RSVP card that much easier.
An extra dose of fun – At large parties, kids have a tendency to break the ice early on. They're always the first guests to hit the dance floor – which encourages adults to join the party – and they never feel awkward about their rusty dance moves! Children also tend to be an easy conversation starter; guests who may not know one another have a quick intro when discussing the little ones. Their antics at the reception can also lead to great family memories and punch lines for years to come.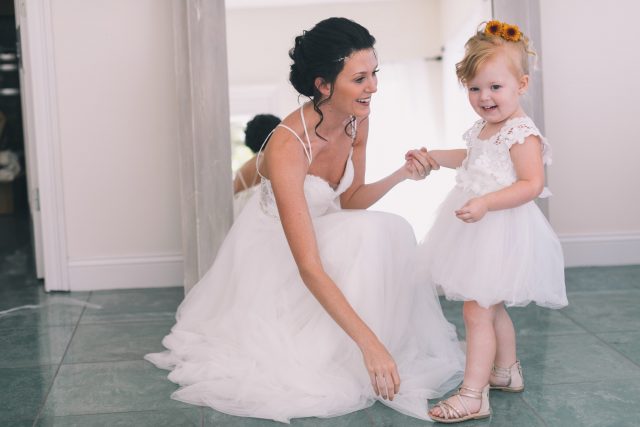 Adorable pictures galore – Come on, what's cuter than a small child in formal wear!
Less awkward conversations ahead of time – One of the biggest cons about an adult-only wedding is the awkward conversations that may need to happen beforehand when explaining the kids-free rules to parents of little ones. By including kids from the start, the awkward factor drops drastically! 
Kid-Friendly Cons
Unpredictability – Most couples spend months planning their wedding. Obviously, the target of all this planning is to avoid any and all unpredictability on the big day. However, kids are like little walking question marks – will they behave, did they nap enough, are they due for a big outburst? The unpredictable nature of kids is what prompts many couples to omit the littlest of guests and wedding party members. So if including the kids, think ahead! A well-timed bribe of candy, a coloring book, or a dollar store gift can go a long way towards a happy and compliant child!
Earlier departures – For those parents that do bring kids, their timeline for the day is not their own. Parents of young children are slaves to the schedule – and bed times are not something to be disturbed. Therefore, close friends or family members may need to depart before the party really gets started in order to put a little one to sleep. If this is a concern, consider providing an onsite babysitter or babysitter recommendations (for out of town guests) so that parents can party the night away on their own schedules. 
Kids gone wild – Whenever family and friends get together, parents always tend to assume that someone – somewhere – is keeping an eye on their child. Oh, I'm sure Aunt Mary is watching Little Johnny…Therefore, in a large crowd, this can get overlooked when everyone assumes that someone else is being responsible. This mindset can lead to kids wandering off, running wild, and/or wreaking havoc on your wedding vendors. Consider an onsite babysitter or kids' room/table with kid-friendly activities provided if you are including children and want to prevent them from being unattended for large stretches of time! 
Adults-Only Pros
Less mouths to feed – When omitting kids from the guest list, your count will inevitably come in a bit lower. This is obviously a great pro when hosting a budget-friendly big day. Wedding catering can be pricey – even when providing kid-specific meals – so this option can help to cut down on rising costs.
Stress & guilt free partying – With the kids tucked away at home in the care of a family member or babysitter, guests are able to let loose. They aren't preoccupied with a fussy toddler or a quickly approaching bedtime. Instead, they're able to have a night on the town. Haven't we all seen that new parent at a wedding who's enjoying their first night out after kids – maybe a little too much!? They tend to be the life of the party. However, the next morning with little ones might not be as much fun…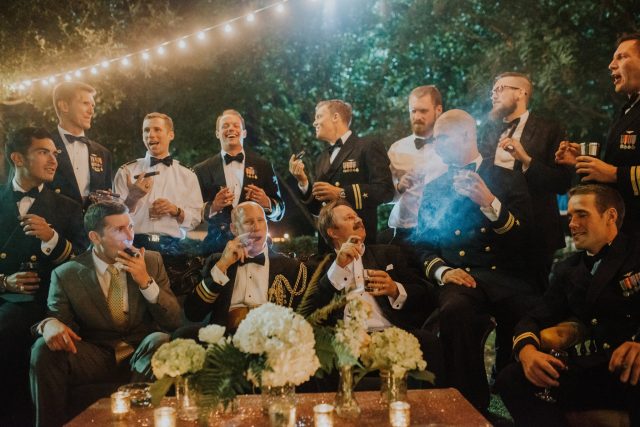 Adults-Only Cons
Less RSVPs – When parents are asked to leave the kids at home (especially those traveling from afar), they oftentimes have to forego the festivities if they're unable to find/afford a weekend's worth of childcare. Therefore, don't be offended if the parents of a new child or family with multiple kids are unable to attend. Understand that they most likely are dying to be there, but just unable to make it work without the kids coming too. 
Awkward Conversations – Some parents are blind to their kiddos' annoying ways and bad habits and fail to understand how you could ever celebrate your big day without them present. These particular parents have no qualms about calling or texting to find out why the kids weren't included – so be ready with a response in case this should happen. This scenario can be somewhat avoided with careful wording on your reception card (included in your invitation) and on your wedding website. However in most cases, these guests with questions aren't being confrontational – they're just double checking to make sure they understand who is included on the invitation. Be patient with these inquiries and be ready with a basic response – budget constraints, venue number limitations, party vibe, etc. By being prepared and unguarded, everyone will come out of the conversation unscathed! 
__
With either option, you really can't go wrong. Just be sure to consider all the pros and cons and plan ahead, regardless of the decision. With a little forethought, your kid-friendly / adults-only reception will be a hit!
~ Blog by Macky