Kayli & David's wedding day was an absolute dream from start to finish. If there was a recipe for wedding planners to build the perfect celebration, this day would have included all of the ideal ingredients: a sweet, loving, hilarious couple, a gorgeous venue, an eager wedding party, two devoted families, beautiful weather, and a team of amazing vendors. To say it was an honor to assist with Kayli & David's big day is definitely an understatement.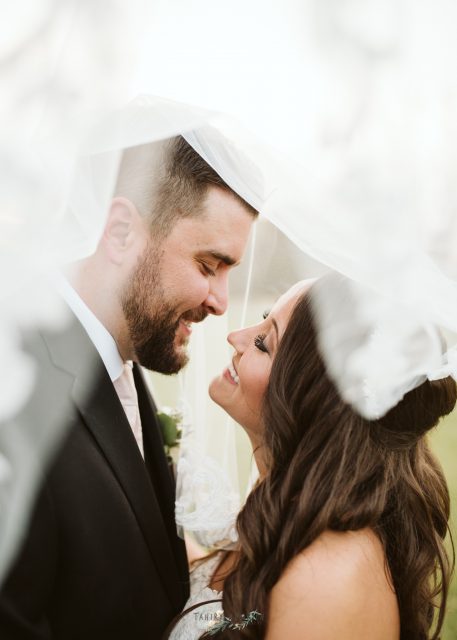 The bride and her six bridesmaids spent the morning in Pensacola Beach with Melissa and the amazing team at Southern Sisters who provided assistance with all hair and makeup. After a leisurely morning spent getting ready, the girls packed up and headed over to the beautiful Live Oak Plantation – the site for all of the day's festivities. There, they got dressed and finished prepping in the bridal suite.
And while we had a feeling that this special day was going to be amazing, we had our confirmation when the groom and seven groomsmen showed up 20 minutes early to the venue for pictures. Come on, have you ever heard of groomsmen being early on a wedding day?!? Neither had we! Regardless, the amazing team at Unique Video Creations as well as the fabulous Tahiry Humrich Photography crew were set and ready to capture this amazing feat.
After their family and friends had found seats by the large pond, Kayli & David's ceremony officially began. The Beach Preacher – Reverend Bryan Adams – was on hand to officiate over a beautiful service – complete with a sand ceremony combining Pensacola Beach and Miami Beach sand to signify the coming together of this couple and their families. All florals, including those draping the large arbor, were provided by the great team at Fiore who also beautifully decorated the Live Oak's Cotton House for the reception. All music for the day – from ceremony through to reception – was provided by DJ Albert Lao of Powell Entertainment. 
After a cocktail hour on the lawn under the hanging lights, guests moved indoors to the Cotton House for a reception catered by Nancy's Catering & Events. Afterwards, guests spent hours dancing the night away to the tunes provided by DJ Lao and enjoying the cake and desserts courtesy of Publix. Finally, after a long, happy day, Kayli & David were whisked off on their way to a honeymoon in Ireland after a sparkler send off. From beginning to end, every moment of this wedding was such a pleasure to witness.
We wish Kayli & David the absolute best moving forward and know that they have a bright future ahead!
Special thanks to Tahiry Humrich Photography for all photographs!