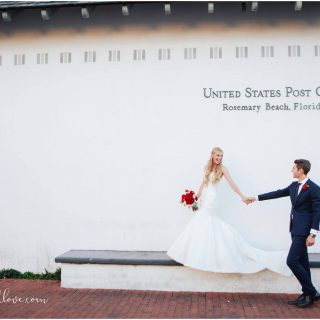 Although they live in Atlanta, Katie and Connor had been to Rosemary Beach many times as Connor's family owns a home in this amazing seaside town.  So it was a no brainer that their wedding and reception would take place here as it is one of the most picturesque and perfect places along our already beautiful Gulf coast.
After the Town Hall was chosen as the venue, Katie brought on an all-star team of vendors who all had loads of experience in Rosemary Beach.  She planned everything perfectly and we were so excited when she asked us to come on and help coordinate all of her hard work so that she and Connor could enjoy their day to the fullest.
When the day finally arrived it was obvious why October is the most popular month for weddings in our area.  That morning, Ashley and Deanie with Mad Love Wedding Photography arrived while Katie's matron-of-honor and very soon to be sister-in-law, Chandler, did hair and make-up for all the girls in the bridal party.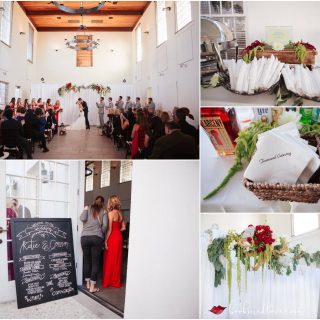 The inside of Town Hall was set for the ceremony with classic chiavari chairs and Nouveau Floral knocked the altar area out of the park.  Beautiful white draping hid the back section of Town Hall (where the band was set up to start for the reception) and a large white-wood structure, complete with hydrangeas, red flowers, hanging amaranthus and greenery, set the space for the ceremony.  You cannot look at these pictures and tell me that the bold red of the bridesmaids dresses and bouquets and light gray groomsmen suits with the same red boutonniere are not a perfect compliment to the white ceremony space and white washed buildings of Rosemary Beach.  Connor, in his suave dark blue tailor-made suit, was only overshadowed by his bride.  Katie's unofficial theme for the wedding was 'Under the Sea' from the Little Mermaid…so it is fitting that when she came down the aisle she could only be described as a princess.
After a short ceremony, guests cheered for the new Mr. and Mrs. Miller and then made their way to the courtyard for the cocktail hour.  While the wedding party took a few more pictures and guests enjoyed drinks and appetizers, the amazing crew from Townsend Catering expertly 'flipped' the inside of Town Hall for the reception.
Connor and Katie were able to get some sunset pictures down by the beach and then were soon being announced to the dance floor for their first dance and the official start of the reception. The bride and groom finally got to mingle with guests while Townsend Catering opened up their food stations featuring everything from carved beef tenderloin and pecan crusted chicken to freshly fried grouper fingers served in cone cups.  You know a catering company is great when guest's go back for seconds and even thirds – but some didn't even get that chance since they were already starting to fill up the dance floor.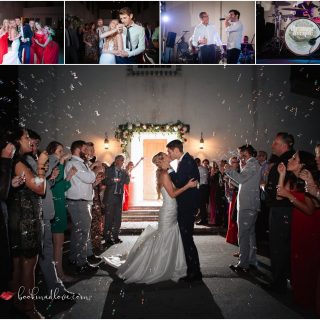 And oh, the band….Orange Avenue. They. Are. Awesome!  Parents dances, toasts and cake cutting all happened somewhere in there…but the reception was all about how much fun guests were having to Orange Avenue rocking out inside Town Hall.  The house band at the Margaritaville in Orlando, Orange Avenue had played a few gigs with Connor's dad – so the couple knew ahead of time how great they were and made sure they were a part of this event. The fairytale wedding came to a beautiful end as guests sent off the new couple with bubbles.
We loved working with Katie and Connor and are so thankful they chose to hire us to help out with their big day.
Cheers to Mr. & Mrs. Miller!
Check out all these amazing pictures by Mad Love Photography!