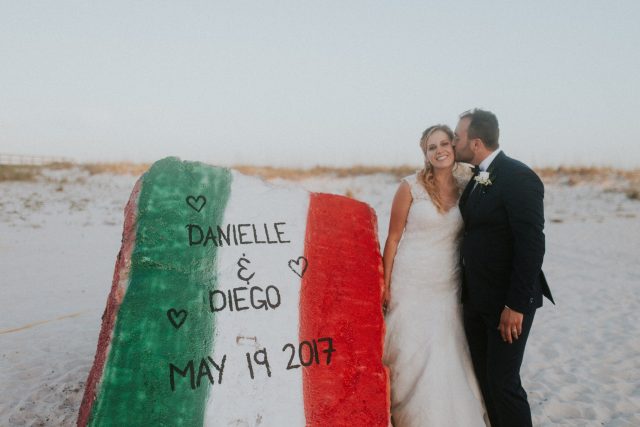 Diego & Danielle Costa-Giani are possibly one of the cutest, happiest, and most fun-loving couples you will ever meet. The moment Danielle sat down with us in our wedding studio, she spoke about how excited she was to marry the man of her dreams and move to Italy with him.
How they met is a bit of a fairytale story. Diego is from a small town in Italy and came to Pensacola to do his Air Force training program at NAS Pensacola and Whiting Field. When we asked Danielle how they met here, she closed her eyes, smiled shyly, and replied in a tiny voice, "Seville Quarter!" She said they somehow kept talking all night even though Diego could barely speak "a lick of English" at the time.
Near the end of our meeting at the studio, Danielle expressed that she wanted to introduce us to Diego. He was living in Italy at the time, so she whipped out her iPhone and began a FaceTime introduction to us. Even through a tiny iPhone screen we could immediately tell there was something very special about their relationship.
With the wedding a week away, Diego flew in from Italy and met with me and Paul at their beach house to go over the final details. Diego went into full Italian hospitality mode as the first question he asked was, "May I please get you something to drink? Water, soda… wine??"
Wedding day arrived and it went perfectly. We worked with some of Pensacola's best vendors, including Matt Powell and his team at Powell Entertainment. They decorated with lighting under the house and around the pool, with awesome music going all night. As the end of the evening neared, Matt even allowed a few of Diego's groomsmen to take over the DJ booth, pumping out some of their favorite Italian pop songs.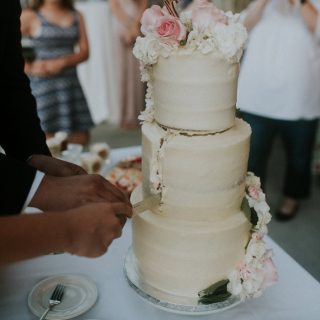 Zac Green was the day's fabulous photographer, capturing everything from the girls getting ready, to the ceremony and reception, and even the late night dancing (as well as the moment guests began jumping in the pool!)
Kelly Co Flowers did all of the bouquet, boutonnieres, and flower bands. Danielle's bouquet was gorgeous and draped like a waterfall.
Nancy's Catering & Events provided the delicious eats, including a carving station of Prime Rib, plus entrees of Glazed Grilled Chicken and Vidalia Onion Crusted Grouper. They even put a little flair of Italy into the meal by providing little Italian flags for the passed hors d'oeuvres!
Blue Jay's Bakery brought in the gorgeous three-tiered wedding cake. Complete with a lovely apricot filling, we heard from many guests that the middle peach layer was their favorite.
The evening was encapsulated by a spectacular moment when Diego & Danielle jumped into the pool for their last song. It was something that truly symbolized not only their free spirited natures, but also the great leap they were about to take into their marriage.
What a special day for not only the bride & groom, but everyone in attendance (us included!) Congratulations to this special couple. We hope you are having a lovely time in Italy…and eating lots of pasta!