From our very first meeting with Dana and Shawn through the last dance at their reception, they were one of the most laid-back, easygoing, and loving couples that we've had the pleasure of working with. Their affection for one another was obvious; and, their love for their friends and family members was also on full display. Dana and Shawn's every decision was based around making sure that their guests enjoyed a night to remember – which we have no doubt that they did!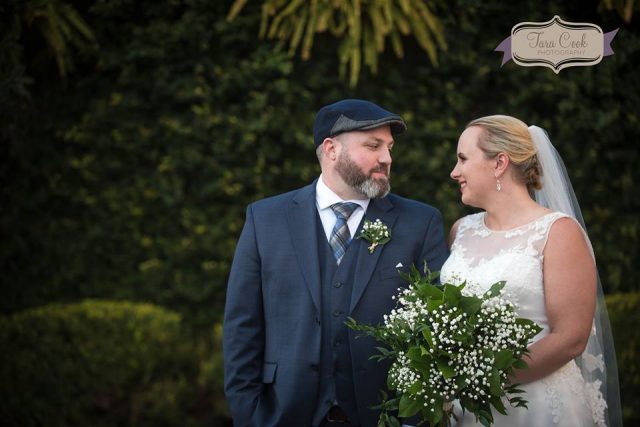 Dana spent the morning getting ready at the Holiday Inn Express downtown, and Stacey from Epic Inc. Salon was on hand to assist with her hair and makeup. Never has a bridal suite been more calm and relaxed – and Tara Cook Photography was on hand to capture every moment. After putting on her gorgeous gown, Dana and her family walked over to 5Eleven Palafox for the sweetest, most intimate ceremony. 
Dana and Shawn exchanged vows in the courtyard at 5Eleven in front of their immediate families. A long-time running parter of Dana's, Russ Nugent officiated the ceremony. Once they were announced as Mr. & Mrs. Casey, everyone enjoyed a champagne toast in celebration of the special moment. 
After the intimate ceremony – and lots of gorgeous photos courtesy of Tara Cook and her team – all of Dana and Shawn's friends and extended families gathered for an evening of fun and celebration. 5Eleven was beautifully decorated with cafe lights strung by Supposey Co. The gorgeous florals, votives, and greenery were delicately set by Fiore, and the beautiful grey tablecloths were provided by BBJ Linen.
Guests enjoyed a lavish appetizer spread and full bar setup, followed by a delicious dinner from Nancy's Catering & Events. Dana and Shawn then cut an amazing lemon-filled cake from Publix, and guests helped themselves to cake as well as dessert votives and petit fors from Nancy's. After a few heartfelt toast from friends of the bride and groom, the rest of the night was spent dancing.
DJ Chris Jordan provided the soundtrack for the evening and had guests on the dance floor until the very end. With DJ Jordan's handy heaters, guests were also able to enjoy the courtyard for the entirety of the cool January evening. 
As we said over and over throughout the planning of their wedding, we wish every couple could be like Dana and Shawn! We know that they have a happy future ahead – full of travel, dogs, laughter, and love. It was an honor to be a part of this very special day!
Special thanks to Tara Cook Photography for the beautiful photos!