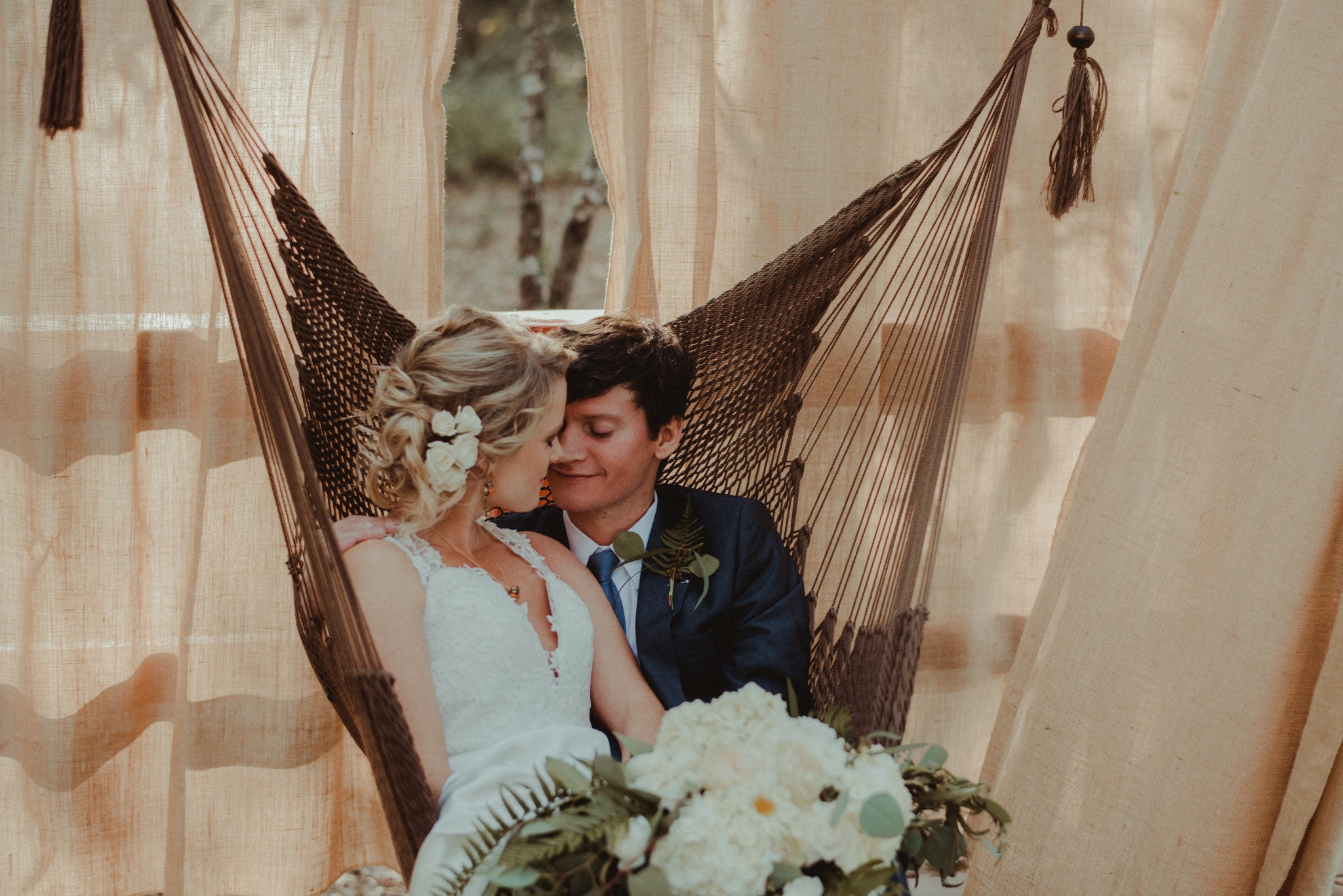 Cortlandt and Javier are the type of unique couple that every wedding planner wants to have walk through their doors.  They are fun, laid-back, incredibly nice, and everything about them is genuine.  They are just…well, how can I put it…they are just…COOL.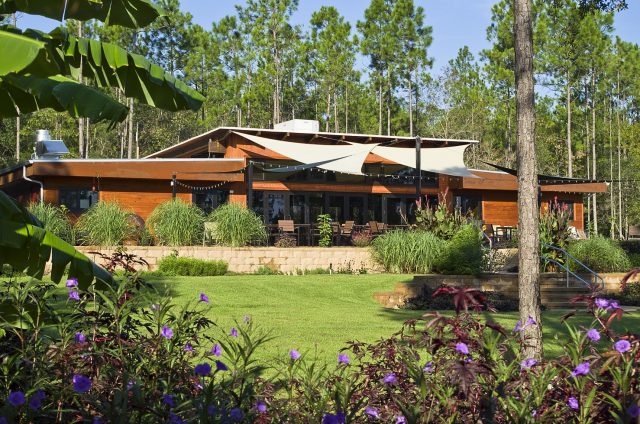 When they hired us to help with their wedding they had already booked Coldwater Gardens for their venue.  I had never been there before and was absolutely blown away when I visited for the first time.  If you haven't been, put it on your list.  It about an hour's drive north of Pensacola but, once you are on their secluded property, you feel like you are a hundred miles away from the nearest town.  The main venue, called The Terrace, numerous gardens, and all of their guest accommodations including cabins, glamping (glamorous camping), and even a tree house, are all beautifully constructed and laid out perfectly on the vast property.
There is literally no place that would have been more perfect for the style of wedding they wanted to have.  Coldwater Gardens was not built with Cortlandt and Javi in mind, but it easily could have been as it embodied everything about them and the vision that they had for their special day.
We had so much fun putting the pieces together in the planning process – from figuring out which vegetables from Coldwater Gardens we could source for our dinner menu, to locating the perfect bluegrass band – that it seemed like no time at all before the big day finally arrived.
While Cortlandt and her bridesmaids had their hair and make-up done by Kelly Woods in one of the beautiful cabins, Javier and the guys got ready in the tree house.  I'll say that again…Javier and the guys got ready in the tree house!  So cool.  Once they were ready, Cortlandt and Javier had decided to do a first look and that is when Jessi and Jess with Jessi Field Photography took over.  I would link to the incredible pictures they got during that short session but I am afraid those reading wouldn't be able to stop looking at them and therefore never finish this blog post, so I'll just put a few at the bottom of the page.  Sufficient to say that, since Coldwater Gardens was the perfect venue for Cortlandt and Javier, these pictures show you why.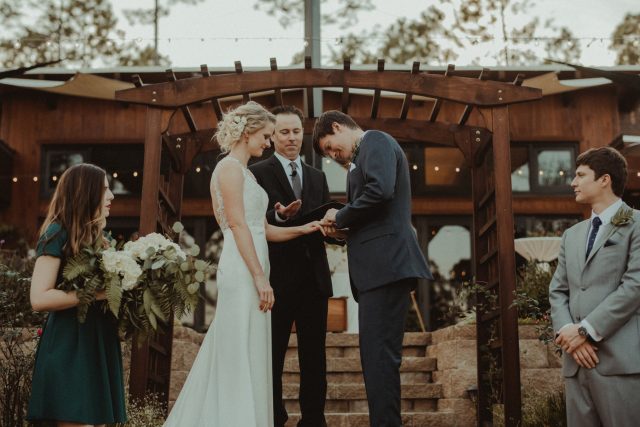 After some bridal party photos it was time for everyone to make their way to the back of the Terrace where a beautiful wooden arbor and stone steps set the space for their ceremony.  Guests had all arrived a little earlier, so with cocktails in hand they sat down on the lovely wooden benches provided by the venue for the start of the ceremony.  Javier and Cortlandt both had each of their parents with them as they made their way down the aisle.  It is little, non-traditional but special, details like these that we love.  After a quick ceremony the guests cheered as Cortlandt and Javier shared their first kiss as husband and wife and then went off to take a few more pictures with the bridal party.  Cocktail hour started up on the patio with Dismal Creek entertaining them with their unique bluegrass sound.
After some drinks and mingling, guests were invited inside to find their seats for the start of dinner served by Nancy's Catering & Events, with many ingredients sourced from Coldwater Gardens.  A beautiful "naked" cake from Publix was served outside on the patio while guests watched Javier and Cortlandt open up the dance floor with their first dance.
The gorgeous day turned into a beautiful and crisp fall-night, and guests not on the dance floor kept cozy by the patio heaters and Coldwater Garden's earth-shaped fire pit.  During one of the band breaks we took the opportunity to do a fake-exit in the same location as the ceremony.  Jessi captured some great pictures of the couple as guests flanked both sides of the steps and aisle with sparklers.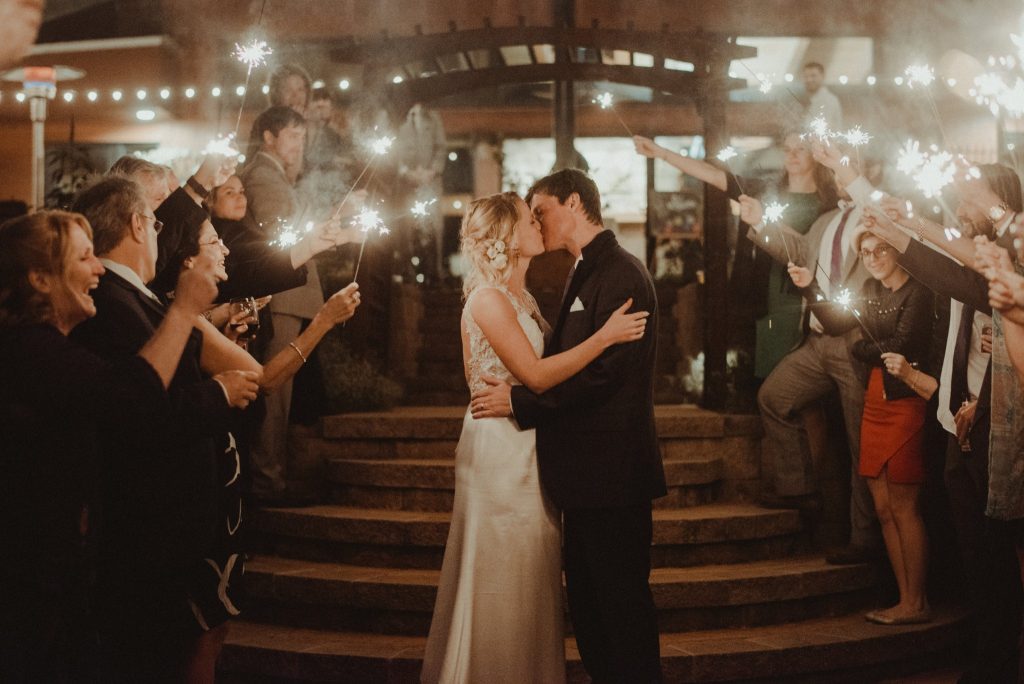 The reception continued with guests enjoying the full bar, dancing, and conversing with friends and family.  No one wanted the party to stop and Dismal Creek was happy to oblige the chant's of 'one more song!' at the end of the reception.
This was a perfect wedding to end our fall wedding season and we are so happy to have been a part of this magical day.
Here's to Mr. and Mrs. Roces!