Bobbi and Jeremy are a couple like no other. They are genuinely sweet, easygoing, obviously head over heels about one another (and their daughter Aubrey), and fun-loving. Basically, they're everything you could ever want in a couple, and assisting with their wedding day was both a joy and an honor!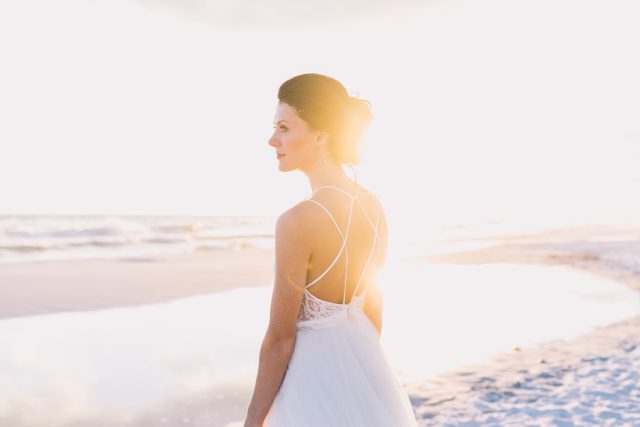 On their beautiful wedding day, Bobbi spent the morning getting ready at Sanctuary by the Sea in Santa Rosa Beach. It was a morning full of laughter – thanks especially to Aubrey's antics. Janine Scott of The Cutting Edge was onsite assisting with the girls' preparation as she styled hair. She was a pro even with little Aubrey who enjoyed every moment of the pampering!
After an easygoing morning, everyone departed for the wedding venue – The Bellamy of 30A – for a gorgeous first look. Black & Hue Photography and Wild Light Films expertly caught every moment of Bobbi and Jeremy's day. Each detail was captured expertly and efficiently by these two amazing vendors. 
After the arrival of their guests, Bobbi and Jeremy exchanged vows under a beautiful arbor with brightly colored flowers all around – thanks to Supposey – who also created an amazing vintage rug aisle. Family friend Dana Kane officiated the gorgeous ceremony. Then, in the blink of an eye, Bobbi and Jeremy became husband and wife while surrounded by their closest family and friends.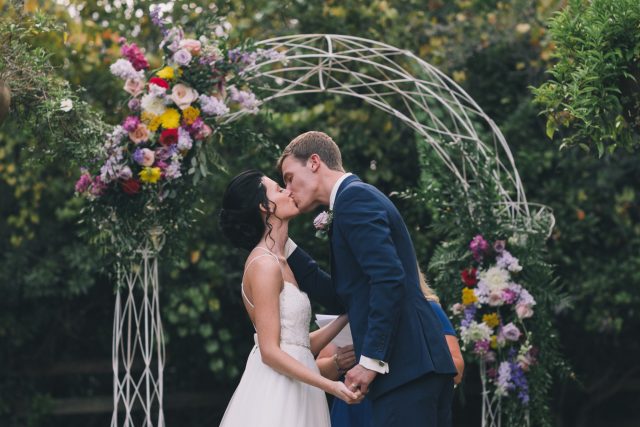 After the ceremony, guests enjoyed an evening of good food (provided by The Bellamy of 30A) and brightly colored linen and florals (thanks again to Supposey). DJ Matt Powell of Powell Entertainment provided the soundtrack for the entire day – from ceremony through the grand exit – along with beautiful uplighting on the venue's lawn. Sweet for Sirten also provided the guests with amazing cake and cupcakes. 
From start to finish, Bobbi and Jeremy's wedding was a dream! On top of that, they were so incredibly amazing to work with throughout the entire planning process. We wish Bobbi, Jeremy, and little Aubrey all the best as they continue their lives together! 
Special thanks again to Black and Hue Photography for recording each beautiful moment.