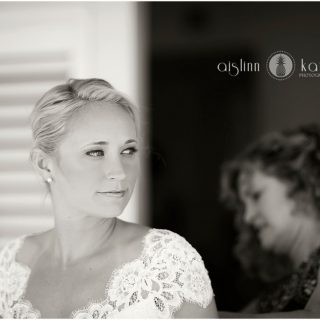 Alli & Michael made us smile and laugh every time we met.  They are they type of couple that you feel like you have known forever when you are with them.  Alli knew exactly what her wedding vision was and she hired an amazing group of vendors to make it happen.  With a 200+ expected guestcount we knew from the beginning that we would be utilizing the beautiful lawn at Palafox Wharf as the main location for the reception.  Once we had confirmation that we would have great weather, Gulf Coast Tents installed an absolutely gorgeous, topless tent to set the space and Wedding Walls added cafe lighting, chandeliers, and their flawless draping to the frame.  Fiore's beautiful centerpieces set on taupe tablecloths completed Alli's vision.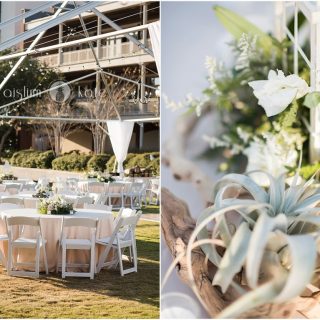 After the ceremony at Gulf Breeze United Methodist Church, guests were welcomed to Palafox Wharf to have cocktails and hors d'oeuvres inside and on the back deck overlooking the water while John Merrill entertained them on guitar.  Once the bridal party arrived, guests were invited onto the lawn for the announcement, first dance, and the start of the reception.  The staff from Nancy's Catering & Events opened up multiple food stations and Teenage Daddy, one of Alli & Michael's favorite local Birmingham bands, started playing on stage.  Once dinner ended, Alli & Michael cut into one of Betty Weber's beautiful creations that always tastes as good as it looks; and guests got to drink their "grooms cake" at the Groom's Martini Bar.  Before long everyone was on the dance floor and its not an exaggeration to say it was full the entire night.
Some wedding receptions fizzle out before they are supposed to end…this one was extended because no one wanted it to stop.  Once it did, Alli & Michael were sent off by their guests with shakers and chants from Alabama football fans.  Jeremy, Tiffany, and Rachel with Aislinn Kate Photography were there to catch every moment that day and, as always, we thank them for letting us use their amazing pictures.
Congratulations again to Mr. & Mrs. Jordan and thank you for letting P.S. Weddings be a part of your big day!