Alex & Eric's wedding was a day filled with laughter, love, 80's music, and amazing vendors – what more could you really ask for?! From start to finish, this celebration was a perfect reflection of Alex & Eric as a couple. As voiced by so many of their family and friends, this couple is meant to be, and we know that they'll enjoy a long future together as husband and wife!
On their wedding day, Alex spent the morning with her three bridesmaids in the bridal suite at New World Inn. There, the fantastic team from VolumeONE Salon assisted with hair for the girls as well as the bride's makeup. As everyone got ready, photographer extraordinaire Rachel from Aislinn Kate Photography – along with second shooter Jeremy – had the girls laughing and smiling as they took tons of gorgeous photos.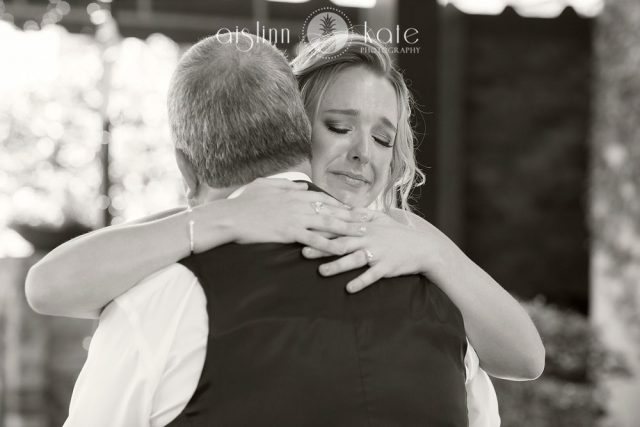 After a sweet first look with Alex's dad, the bride and groom headed across Palafox Street for a special moment together. Their first look was one of the most genuine, sweetest first looks we've seen as Alex couldn't help but hug Eric as she saw him for the first time. While always apparent, their affection for one another stood out to everyone who had the honor of watching them share this time with one another. 
With a fantastic team of vendors and a wedding party that was incredibly easygoing, everyone finished getting ready early (!!!!) and had time to relax and regroup before heading across the street to 5Eleven Palafox for their intimate courtyard ceremony. The courtyard and building were beautifully decorated thanks to lots of gorgeous florals provided by Fiore, an arbor made by the bride's dad, linens from BBJ Linen, and chair pads provided by Supposey. 
Officiated by friend Adam Beale, Alex & Eric's wedding included a sand ceremony, vows written by the bride and groom, and lots of laughs. As soon as the couple said their "I Dos," guests were then treated to a cocktail hour featuring hors d'oeuvres courtesy of the wonderful team from Culinary Productions and drinks from Richey's East bartender Todd. DJ Tom Schwarz was also on hand and provided the evening's soundtrack from beginning to end. 
Following their post-ceremony photos with Rachel, Alex & Eric also took part in a great Southern tradition as they "dug up the bourbon." And obviously this tradition's effectiveness continued, as there wasn't a cloud in the sky on their wedding day and absolutely no chance of rain. After sharing a swig of bourbon with the entire bridal party, Alex & Eric joined the celebration as they were announced as husband and wife to the cheers of all their guests.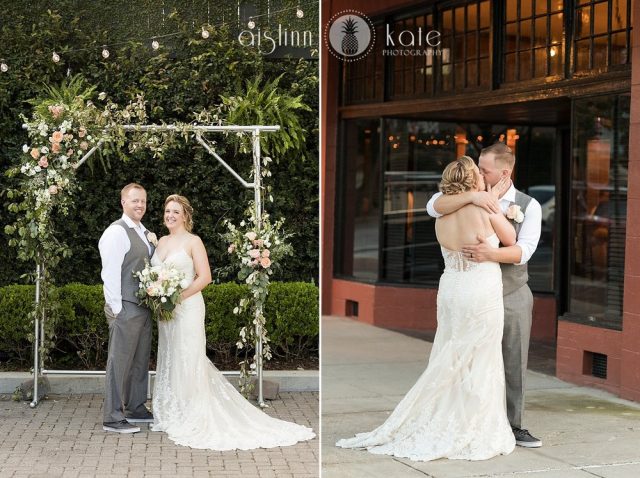 After the couple's introduction, guests enjoyed a delicious buffet dinner again provided by Culinary Productions, followed by a dessert of cannolis from Publix Bakery. Finally, after a few heart-felt toasts, some sunset pictures of the bride and groom, and first dances, guests partied the night away under the stars in the courtyard as DJ Tom provided a soundtrack of 80's hits at the request of Alex & Eric. And as the night finally came to a close, guests sent the newlyweds on their way with a beautiful sparkler grand exit. 
As they begin the next phase of their life together, we look forward to hearing all about the fun and love that Alex & Eric will share for many, many years to come. We'd like to thank them for allowing us to share in such a special celebration with such an amazing group of people. Best wishes to Alex & Eric!
And many, many thanks as always to the wonderful Rachel at Aislinn Kate Photography for the beautiful photos!!