How many people you know would stay calm and collected after finding out two weeks before their wedding that ALL streets around their ceremony and reception would be closed? If that doesn't get the anxiety pumping, how about adding on local weather forecasts calling for horrendous thunderstorms?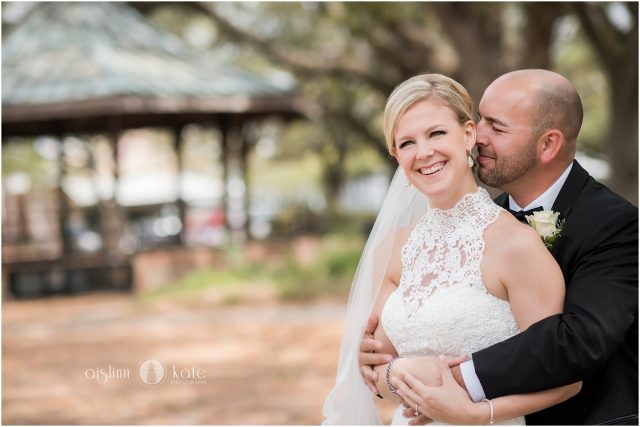 It's a bad combination that could distress even the steadiest of brides; however, our recent couple, Abby and Jason, wouldn't let anything get their spirits down. And perhaps it was their positive energy that changed things…because the rain never came, the street closures were inconsequential, and Abby and Jason's March 25th wedding was nothing short of exquisite.
Abby and her bridal party started the day early at The Lee House getting ready with the amazing Melody Weber, while Jason and his groomsmen spent their downtime at the Pensacola Bay Brewery.
The brick covered courtyard at The Lee House served as the perfect location for the couple's intimate and emotional first look. Aislinn and her team with Aislinn Kate Photography captured the moment beautifully as always (check out the full photo blog here).
Abby and Jason exchanged their vows across the square at Old Christ Church, and then guests were invited to 5Eleven for a breathtaking reception with flowers and decor supplied by Fiore.
Nancy's Catering & Events provided the delicious food and drink, while Marty Stanovich, who was also a close personal friend of Jason, was on the mic as DJ and emcee. The gorgeous cakes were created by Tony Tuan with The Cake Gallery. Everyone danced into the evening until the newlyweds were sent off with confetti cannons and carried away in a vintage Packard.
We want to thank Martha Ann and Bret Allen for allowing us to help out with their daughter's big day, and we wish Abby & Jason Young all the best for years to come! May you always be as composed and confident in the face of anything life throws your way!