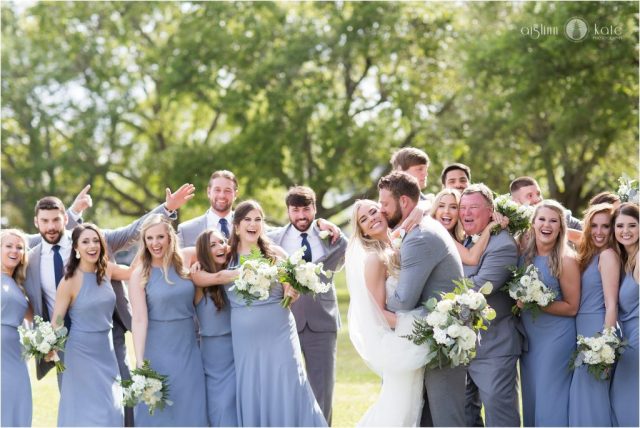 The story of how Abby and Brannon met is well-known throughout their large circle of family and friends. While at Troy University, Brannon came over to help Abby change a lightbulb…. And basically never left. Their connection from the beginning was strong, and nothing has changed in the meantime. Therefore, we were honored to coordinate their gorgeous ceremony and reception at Palafox Wharf in downtown Pensacola. 
Abby and her ten bridesmaids (yes, 10!) spent the morning getting ready at the beautiful home of a family friend. After hair and makeup, they hopped on the Five Flags Trolley and headed to Bartram Park. There, Tiffany and Rachel O. of Aislinn Kate Photography, beautifully captured the heartfelt first look between Abby and Brannon. They shared this special moment together before being joined by their bridesmaids and ten groomsmen. (We did say LARGE circle of family and friends, didn't we?!) The entire party then jumped back on the trolley before heading to their venue. 
There on the lawn of Palafox Wharf, the ceremony was officiated by family friend Pastor Laura Weant and took place facing the bay as the sun began to set. This amazing backdrop was made even more perfect by the violin accompaniment of Christina Clark. Following their sand ceremony and vows, Pastor Laura introduced the new couple – Mr. and Mrs. Brannon & Abby Bryan – to the cheering crowd of their biggest supporters.
After the ceremony, while photographer Tiffany whisked away the couple for some swoon-worthy photos, guests headed inside the venue for cocktail hour. During this time, guests enjoyed champagne and cocktails courtesy of Richey's East as well as appetizers from Nancy's Catering & Events.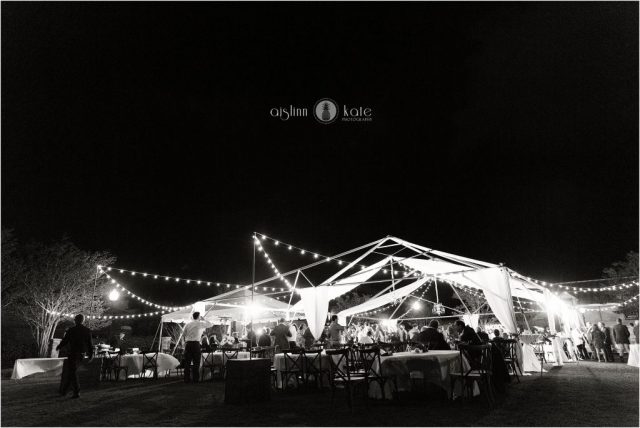 The reception then took place back out on the lawn under an open frame tent provided by Gulf Coast Tents. The wonderful staff of Supposey truly outdid themselves with beautiful lighting, florals, and rentals including the Posey Bus photo booth, setting the stage for a huge party under the stars. Guests were treated to a grill station, mashed potato bar, and mason jar salad station from Nancy's Catering & Events, followed by a gorgeous cake made by Bluejay's Bakery.
Later in the night, Abby and Brannon joined their guests on the dance floor as they partied to the music of Alabama-based band Lucky Town. At the end of their celebration, the couple departed to a bubble sendoff by way of water from the Palafox Wharf dock.
We'd like to thank the Raney and Bryan families for including us in this special celebration; and congratulations to Abby and Brannon! We wish you a lifetime of continued happiness.